Did You Know:
If each of our regular readers (in a single week, no less) donated just $1 once in an entire year, we would have enough funds to focus entirely on the comic.
As it is, our attentions are divided by taking on projects to pay the bills, which means less comics and less updates. So, if you really enjoy reading and want more, think about that dollar! It only takes a fraction of you all to give us the chance to better entertain you!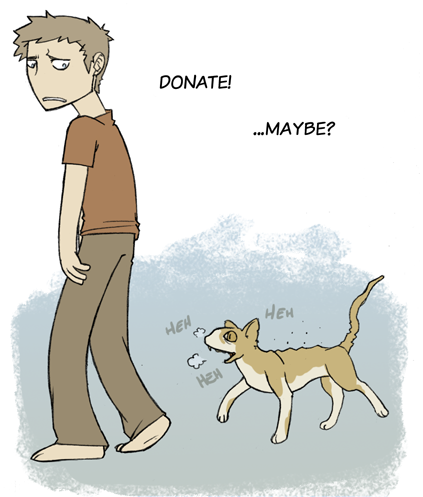 Be a part of our ongoing comic project by donating to its progress!
Any donation amount is appreciated and will be securely processed through PayPal,
plus every donation gets access to a free set of wallpapers from both ChaosLife and FindChaos,
available in a huge range of sizes so you're guaranteed to find what you're looking for!

No PayPal account is required, all major credit cards are accepted.
Are you a regular fan of ChaosLife?
Do we manage to entertain you at least once a month?
Choose to make recurring donations that are automatically processed each month!
I promise we'll love you for it.
And we'll give you wallpapers.

By popular demand, if you'd rather buy a thing than donate a sum of money, here's my Amazon Wish List. So now you can buy my stupid fucking cats stupid fucking cat things.